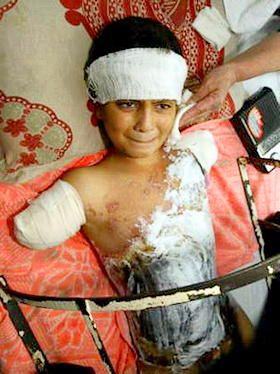 IPS correspondent Ali al-Fadhily writes on how Uncle Sam, defeated on the ground by Iraq's Resistance, has resorted to a vindictive intensification of Carpet-Bombing Campaign to maximize civilian bloodshed:
The U.S. military has dramatically escalated its use of air power in Iraq, leading many Iraqis to conclude that the occupation forces on the ground are facing defeat.

U.S. Air Force and Navy aircraft dropped five times as many bombs in Iraq during the first six months of this year as during the first half of 2006, according to official information....

The U.S. forces are looking to do more of all this. "There are times when the Army wishes we had more jets," said F-16 pilot Lt. Col. Steve Williams, commander of the 13th Expeditionary Fighter Squadron...

Air Force engineers are working long hours to upgrade the Balad air base, just north of Baghdad, which already supports 10,000 air operations per week. One of the two 11,000-foot runways has been reinforced to withstand five to seven years more of hard use.

Salli Hussein, a 10-year-old girl, lost both her legs when her home was bombed by a U.S. jet fighter near the Abu Ghraib area of Baghdad in November 2006. Her cousin Tabarak and 11-year-old brother, Akram, were torn to pieces in that missile attack.

"I want to have legs again so that I can play with my friends and make Mama happy," she said.

Labels: Iraq, Iraq Genocide, Occupation, Vanilla Crusade